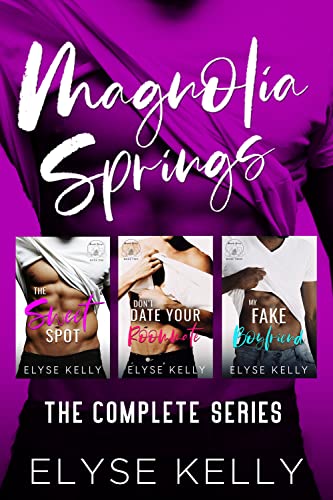 Welcome to Magnolia Springs! If you're looking for laugh-out-loud moments with lots of swoon and sexy book boyfriends, then you've come to the right place!
This small-town, blue-collar romance collection contains The Sweet Spot, Don't Date Your Roommate, and My Fake Boyfriend, plus brand-new bonus epilogues for each book!
THE SWEET SPOT
He smells like broken hearts, bad decisions, and a damn good time…
A sassy new baker goes all in and moves to Magnolia Springs, Georgia to open a cupcake shop. But she doesn't plan on the sexy playboy mechanic next door being a big distraction she doesn't need. Can she focus on her new venture, offering sweet treats in this small town, or will the gorgeous bad boy be too delicious to pass up?
DON'T DATE YOUR ROOMMATE
I'm not sure I have enough batteries for my vibrator to survive the next few weeks…
When the new girl in town suddenly finds herself in need of a new roommate, she never imagined she'd be living with a hot, sexy, sweet mechanic. Will she be able to keep her hands to herself? Does she even want to?
MY FAKE BOYFRIEND
They call him Captain Save-a-Ho…
A beautiful but quirky boutique owner dreads running into her lying, cheating ex at her sister's wedding until her childhood crush and star of all her sexy, steamy fantasies agrees to be her fake date. But when the pair are forced to spend extra time together as a couple in love, she can't hide her true feelings from him for long. Can she keep her infatuation a secret from the man of her dreams? Or will she face her biggest fear if he discovers what she's hiding?